Air travel wreaks havoc on your body.
Heightened Stress & Anxiety

Oxygen can fall from 98% to as low as 94%

Radiation harms the body on the cellular level

Cleaning chemicals on every surface you touch

300% increase in germ exposure

Lengthened periods of inactivity
Reviews
"For the first time ever I was able to GO to sleep once I was done flying. I did some deadhead products before, but wow I was pleased with your product. Felt settled and yes I would say "resilient." And that is NEW for me on these long haul weeks."

— TP, FedEx Cargo Pilot
"On my long trip to Portugal it was the first time ever that I was able to sleep on the plane both coming and going. I got there rested and ready to explore and on the return trip the next day I had a listing appointment that I was able to capture. I couldn't be more pleased with the product."

— Pamela M., SF Realtor
"Renewal Kit for Travelers is a homerun for me. I stayed healthy on my last two trips and my energy levels were amazing (even my staff commented on how focused I was despite the delayed flights). You have a clear winner on your hands."

— Cas S., President & Owner, Corporate Meetings And Events Company
Pure food based supplements to
completely change how you travel.
Chewable Probiotic

Specially formulated to hydrate, refresh and act as a first-line to immune defense.
Packed with cooling, stimulating benefits of Peppermint and calming, soothing benefits of Ginger Root Extract.
Each chewable tablet contains just the right amount of premium oral probiotic, Streptococcus salivarius, to support oral immune health and saliva production.

Elderberry Probiotic

Elder-Mune™ is a superior 65:1 elderberry preparation 65 grams of pure elderberry produces 1 gram of concentrated extract preserving all of the healing constituents inherent to this amazing superfood.
Sunfiber prebiotics have over 120 clinical studies demonstrating it's efficacy
Bacillus coagulans is among the best nutritional options for microbiome.

Broccoli Sprouts Extracts + Glutathione

VDF Futureceuticals Hi-Actives Organic Broccoli Sprouts contain unique nutrient and phytonutrient compositions.
Rich sources of Vitamins A & C
Contain sulforaphane, stimulating production of important enzymes neutralizing free radicals and supporting cellular health.
Antioxidant and anti-inflammatory support.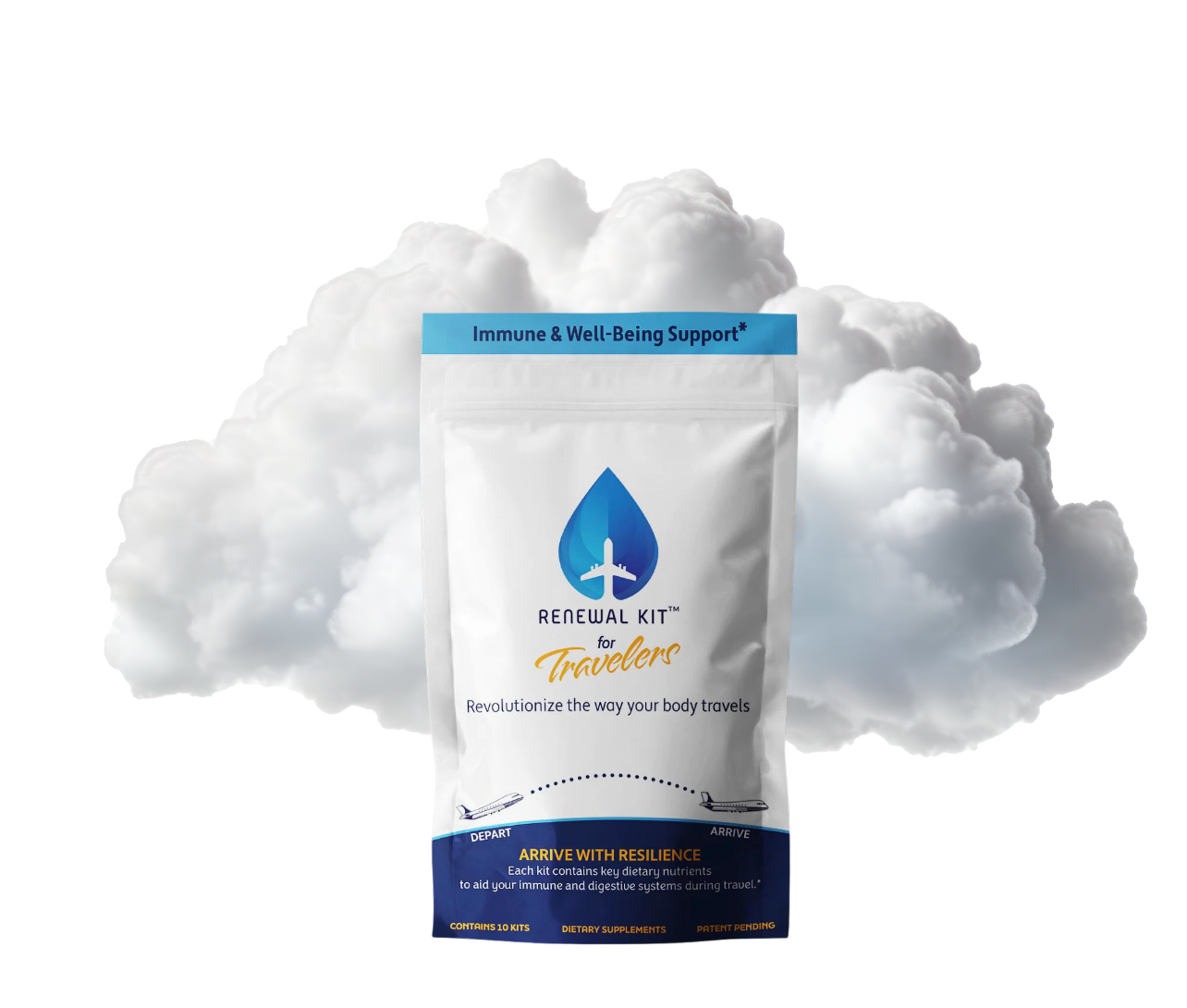 Renewal Kit™ for Travelers
Regular price
Sale price
$59.95 USD
Unit price
per
Sale
Sold out
Share
View full details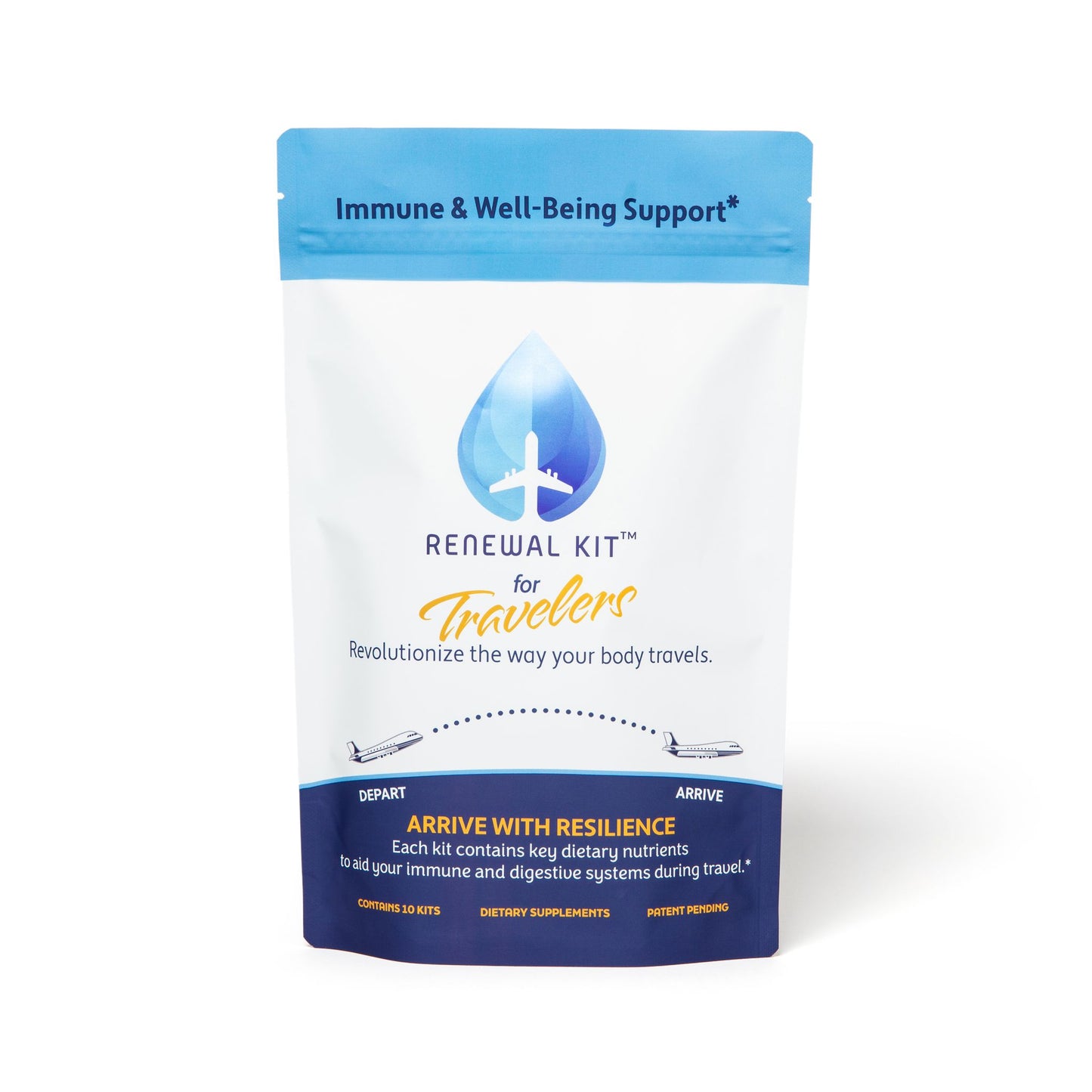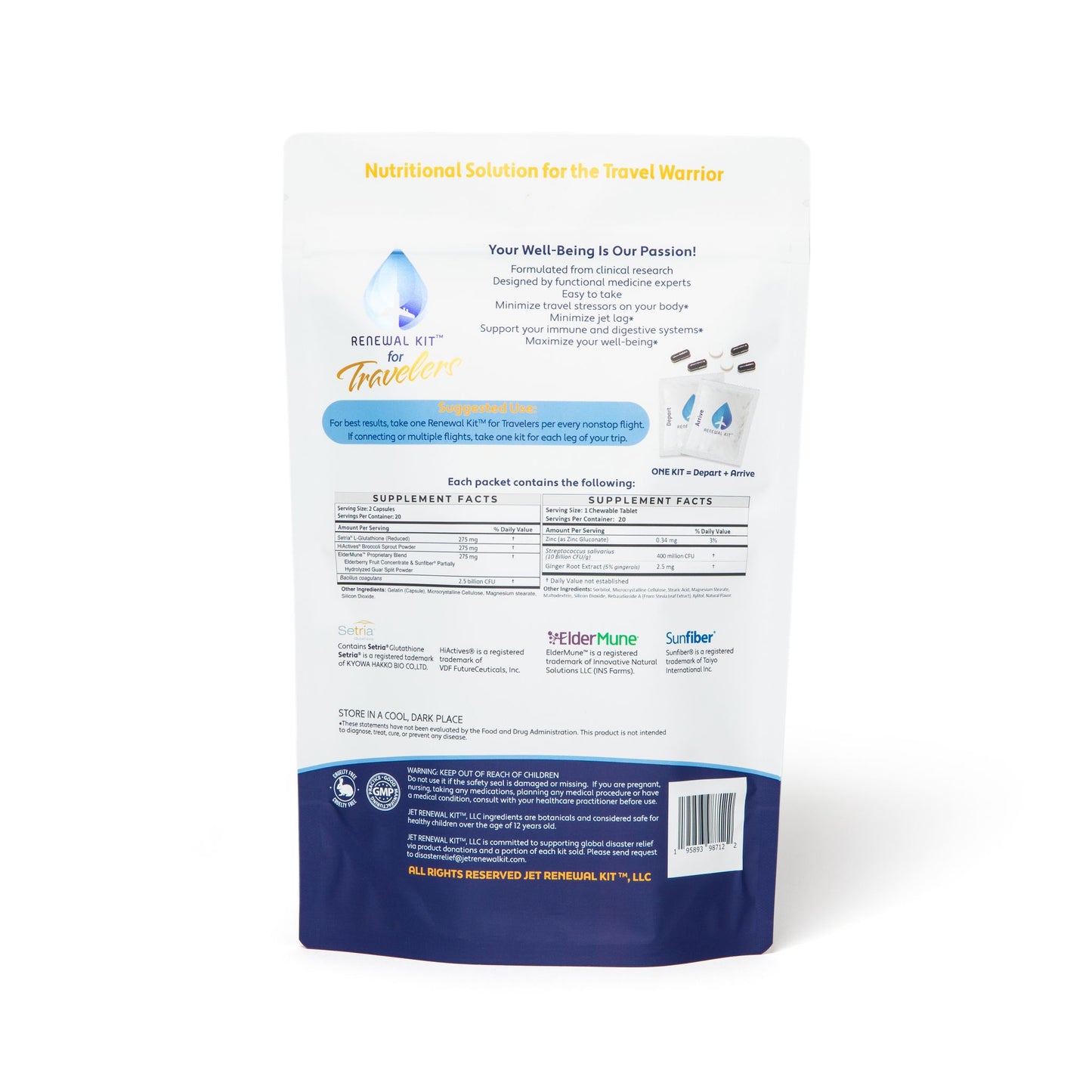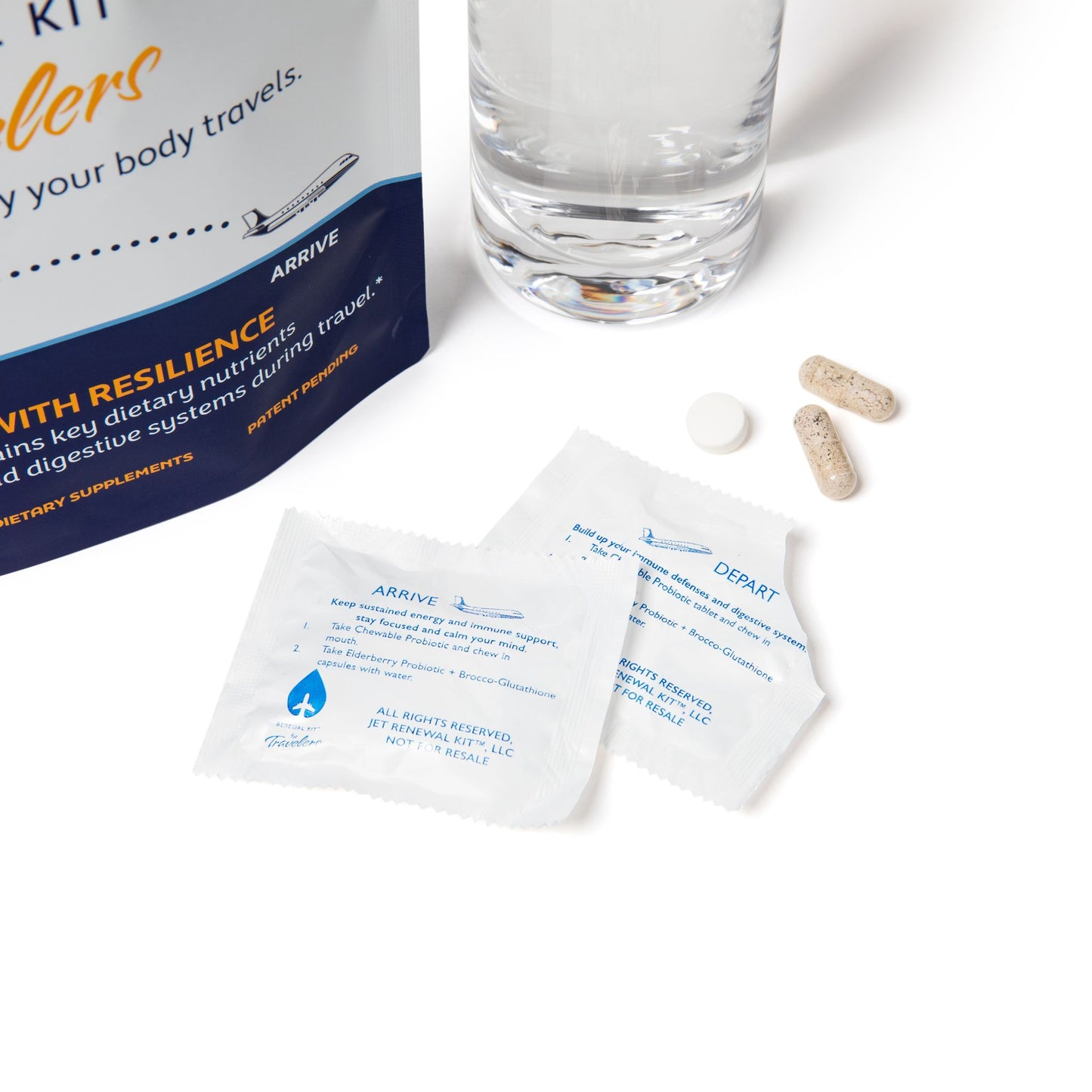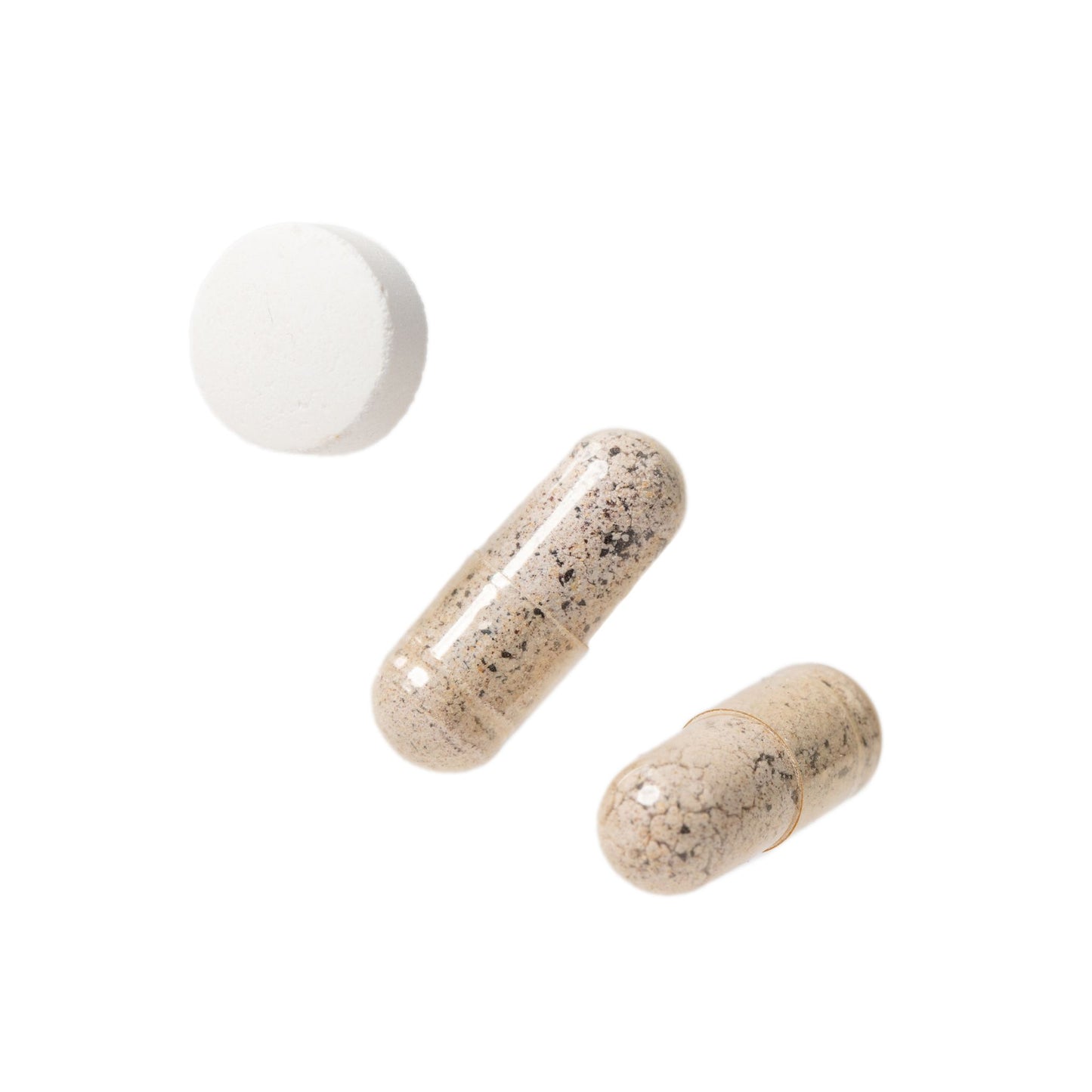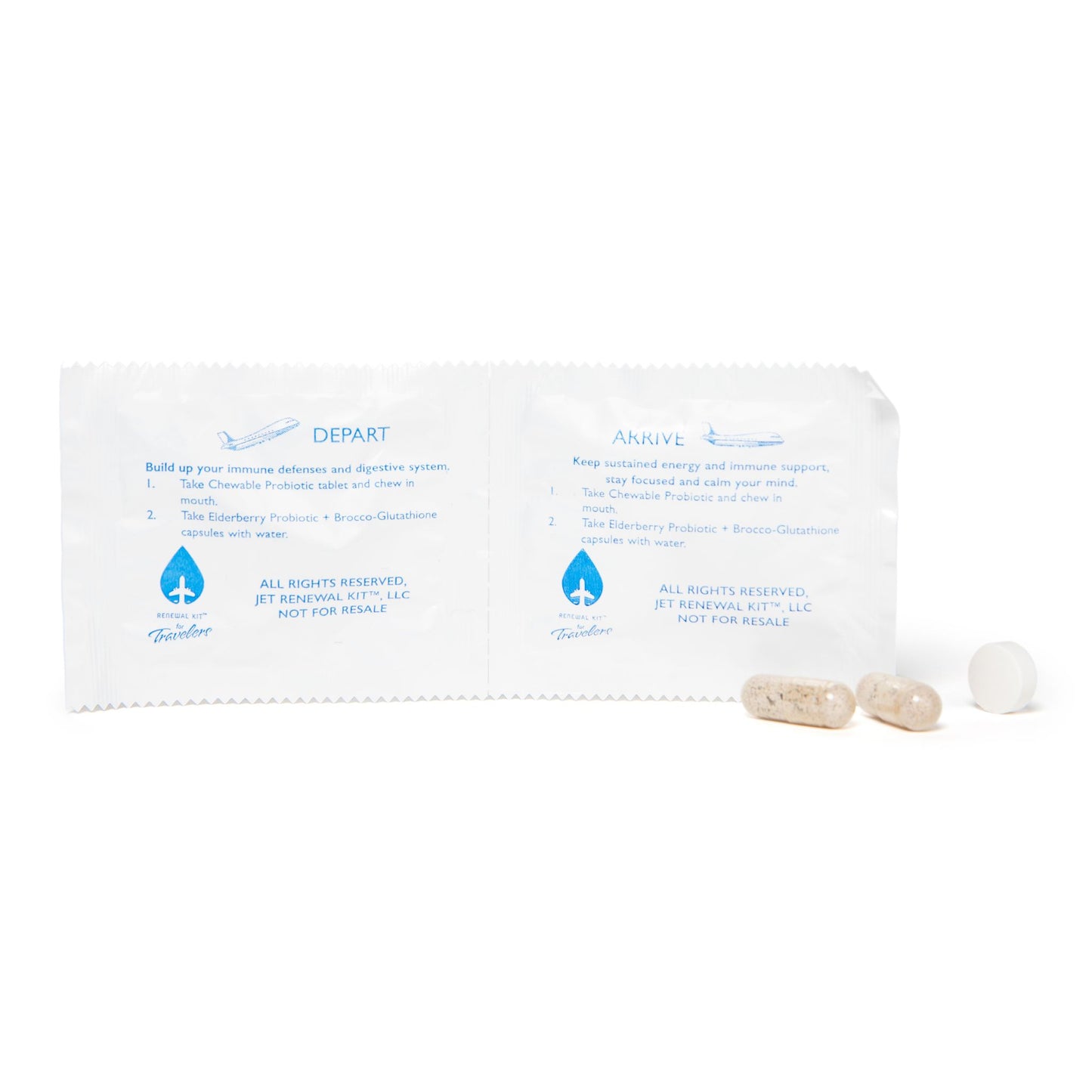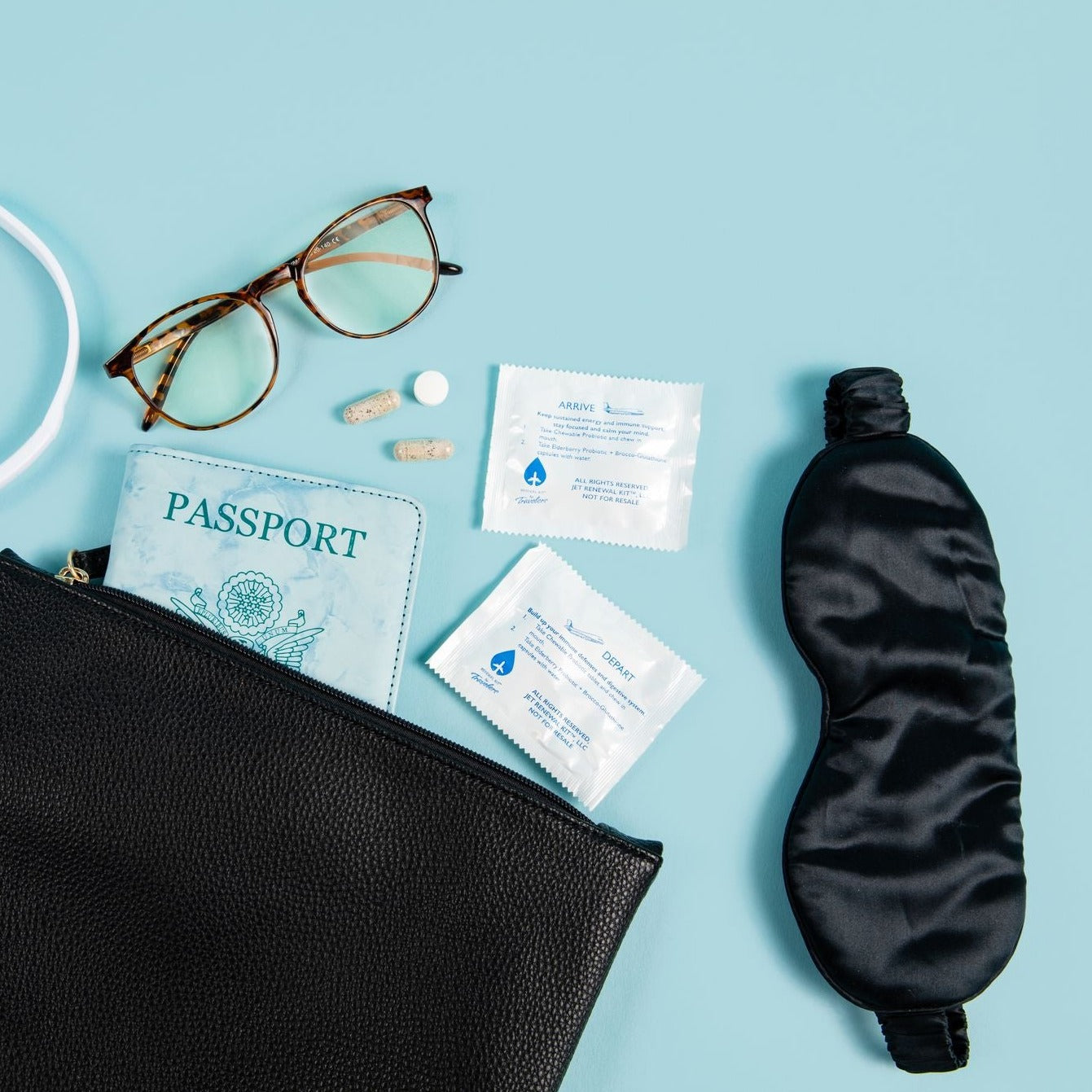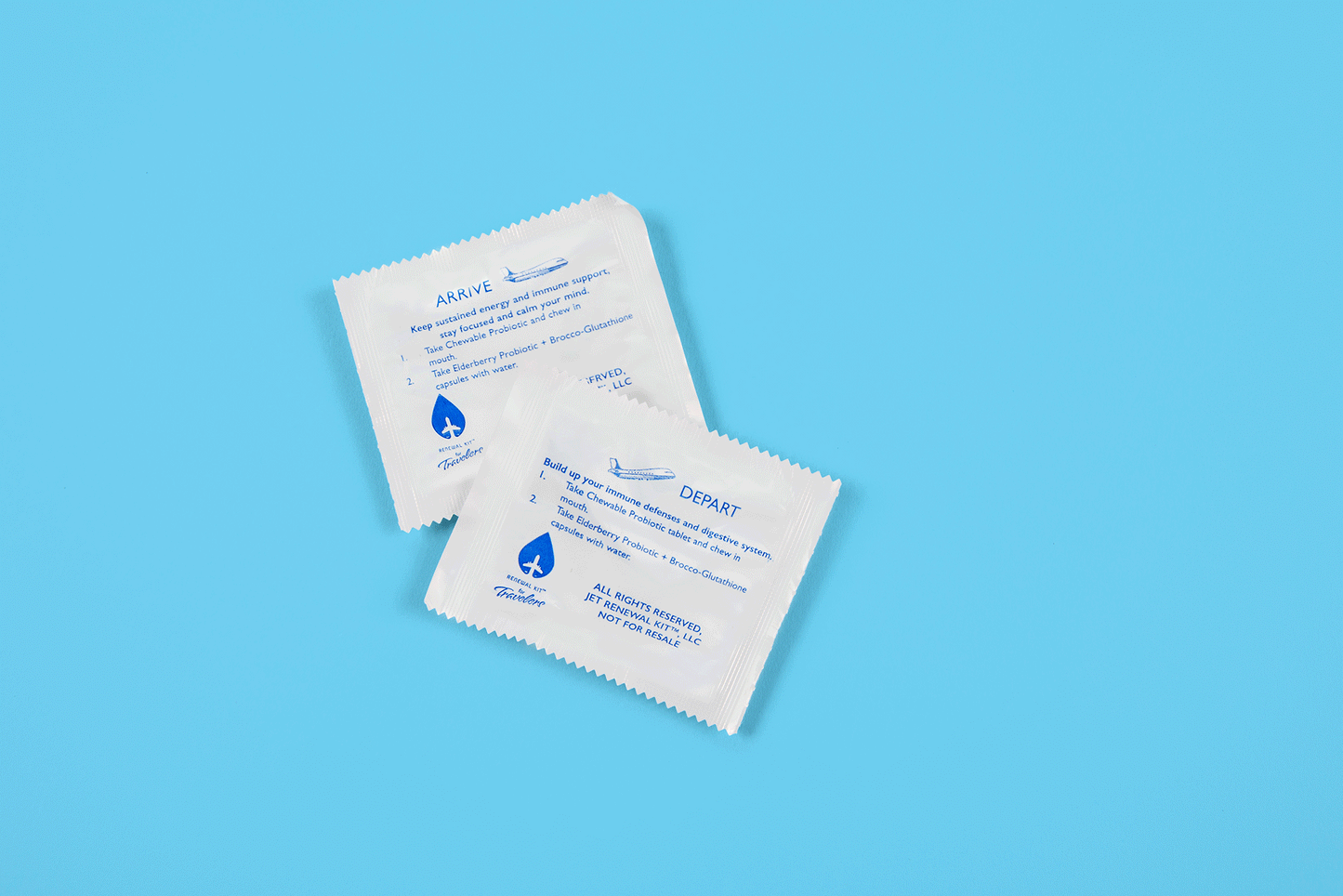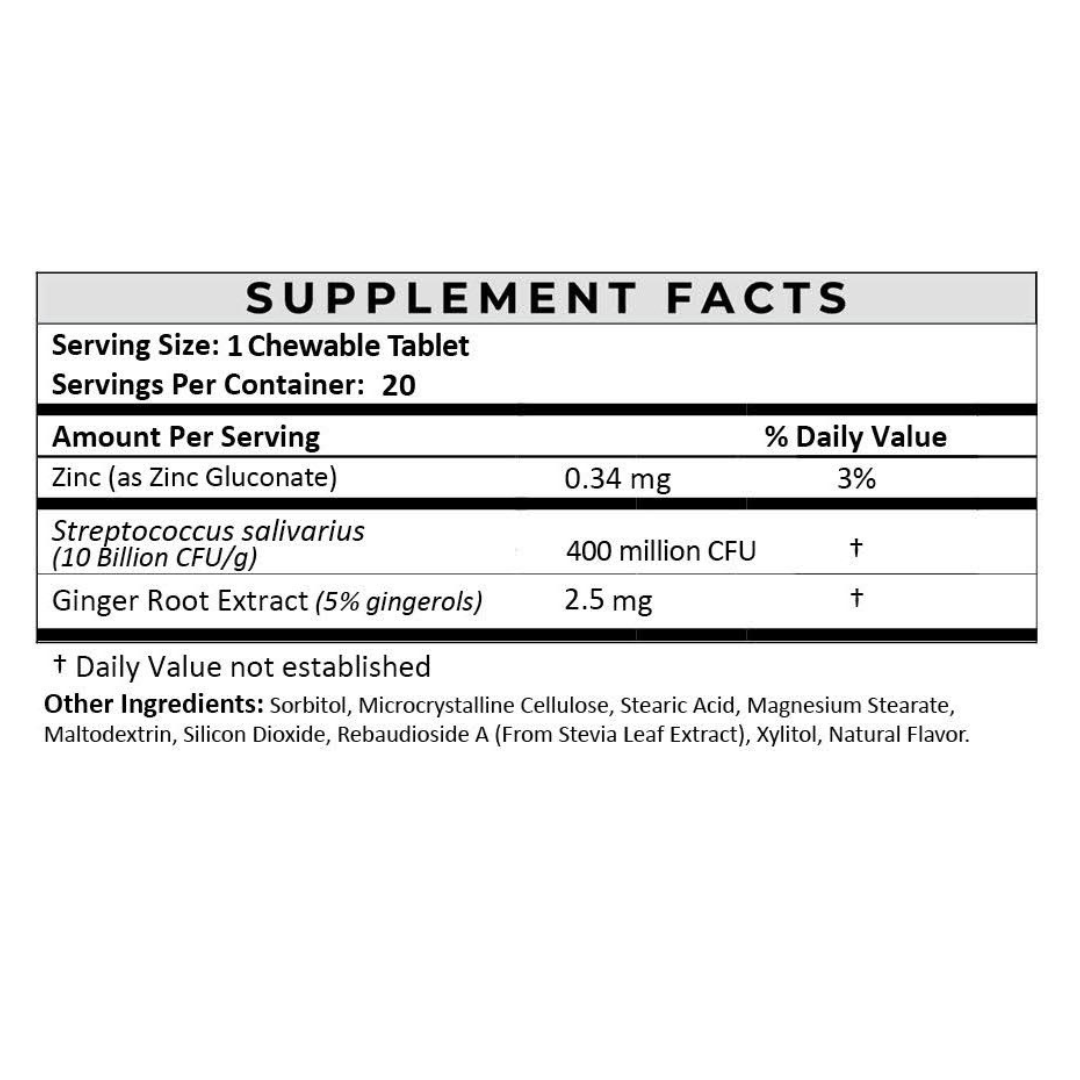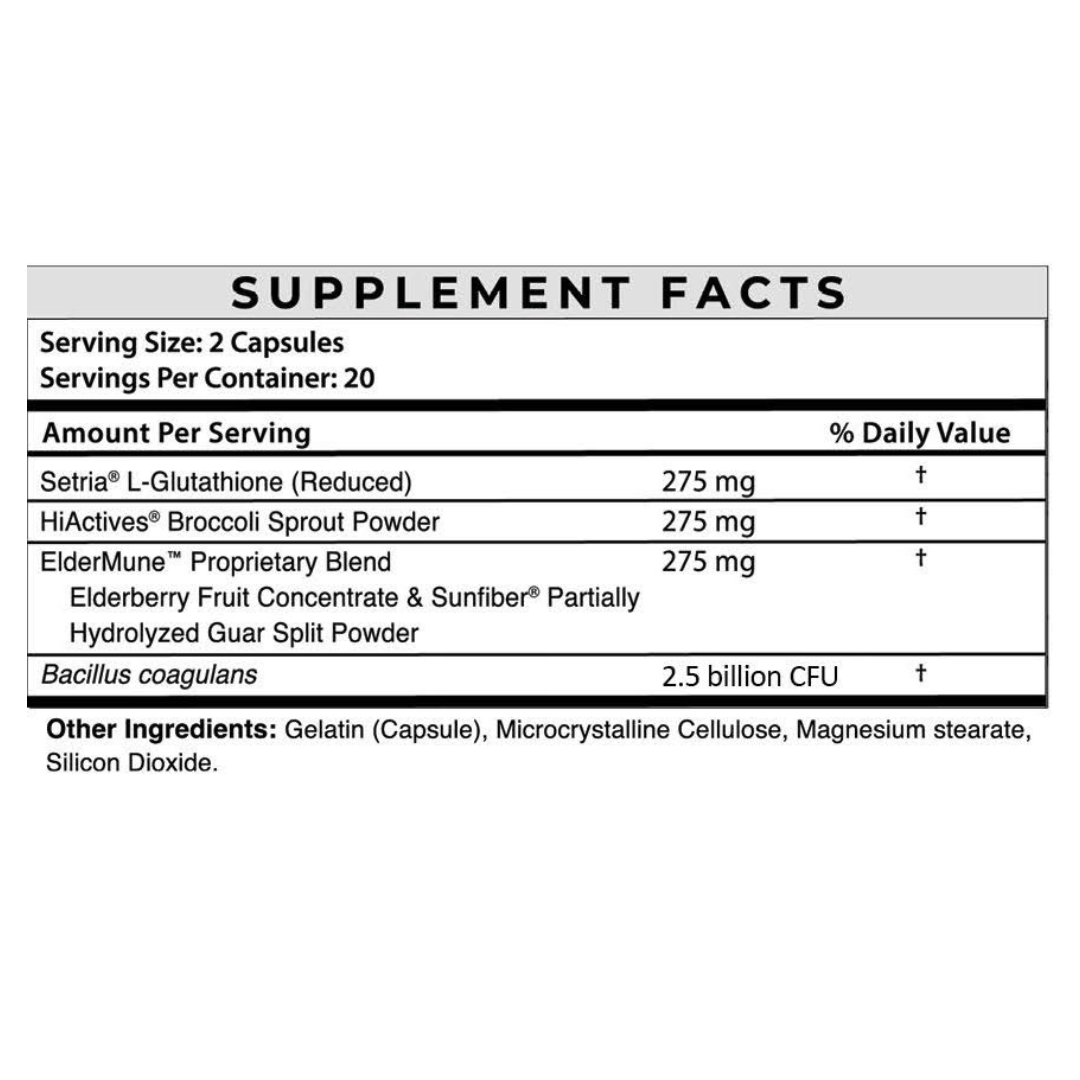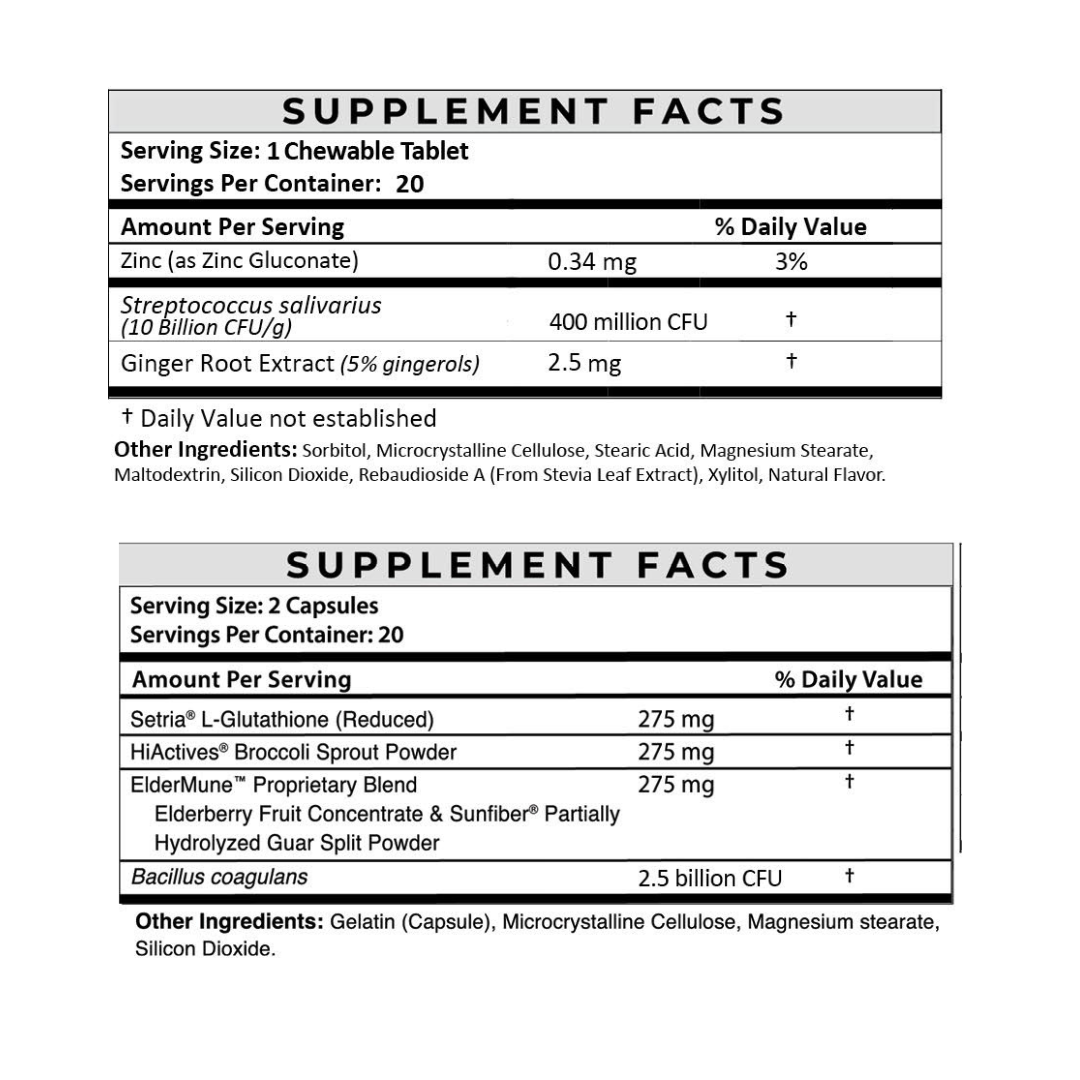 "As a long-time PGA Tour caddie that travels at least 30 weeks per year, the Renewal Kit for Travelers has been very helpful for me. Where I used to feel sluggish upon arriving, I now have the energy to go straight to the golf course from the airport and get my work done."
- MICHAEL H., PROFESSIONAL GOLF CADDIE
Reviews
"I was surprised how RKT lessened my jet lag and I love that it added support to my body in every way. The idea and ease of use is really brilliant. I have tried just about everything on the market and this by FAR, makes physiologic sense and I felt it."
- FRANK
"I was sick with a cold - horrible - during my London trip. If I had not had Renewal Kit for Travelers, I would never have left my hotel room. Amazing stuff, Patti. Bravo!!👏👏👏💕💕. My CEO is crazy for it!"

— Christine F.M., VP of Global Marketing, Publicly Traded Company
"My job requires frequent travel, and using Renewal Kit for Travelers on each trip has helped minimize the effects of constantly being on the go. I'm thankful for the peace of mind in knowing that I'm taking care of my immune system while traveling!"

— Kayte N., CFRE, CNP
Our Purpose
Integrate the power of plant and holistic medicine with evidence-based health practices to offer travelers the highest standard of quality in travel wellness.